"Validating and Treating the Complaint of Chronic Back Pain: The Mensana Clinic Approach."

-Nelson Hendler, MD, MS
"Evaluating Chronic Pain Patients Using Methods from Johns Hopkins Hospital Physicians"

-Journal of Pain & Relief
"Three-dimensional CT imaging in postsurgical "failed back" syndrome."

-Zinreich SJ1, Long DM, Davis R, Quinn CB, McAfee PC, Wang H.
"The Holy Grail uncovered? Who says your client is faking it? Methods for preemptively and scientifically validating, diagnosing, and treating injured clients' chronic pain."

-Reginald Davis, MD and Thomas Benghauser, JD
"Exposing the Most Common Myths in Validity of Effort Testing."

-James D. St. James and Darrell Schapmire
"Diagnoses from an On-Line Expert System for Chronic Pain Confirmed by Intra-Operative Findings."

-Alessandro Landi, Reginald Davis, Nelson Hendler and Al-Rahim Abbasali Tailor
"Association between findings of provocative discography and vertebral endplate signal changes as seen on MRI."

-Sandhu HS1, Sanchez-Caso LP, Parvataneni HK, Cammisa FP Jr, Girardi FP, Ghelman B.
"How To Increase Surgeons Revenue By Using On-Line Expert System Tools From MCD."

-Nelson Hendler, MD, MS
"Improving Client Outcomes: How a proper diagnosis and proper treatment will help an attorney meet insurance company objections and increase recovery 600%."

-Maryland Clinical Diagnostics
"Effects of Active and Completed Litigation on Treatment Results: Workers' Compensation Patients Compared with Other Litigation Patients."

-Seija Talo, PhL, Nelson Hendler, MD, and Jeffrey Brodie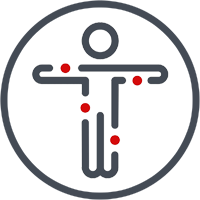 Interested in learning more about us?