Pain Diagnostic Screener With AI Technology
Pinpoint Accuracy.
Rapid Results.
Optimized Outcomes.
Online PAIN DIAGNOSTIC SCREENER
Twenty percent of any population has chronic pain. Research from former Johns Hopkins Hospital doctors documents that 40%-80% of these patients are misdiagnosed. This is costly to everyone concerned – emotionally and financially.
Before the patient can get proper testing and treatment, both the patient and clinician need to know the precise cause of the pain. A group of physicians formerly from world-renowned Johns Hopkins University School of Medicine were determined to provide better care for the millions who suffer in pain every day. They found that 40% to 80% of patients with headache, neck, arm, back and leg pain were misdiagnosed.
Select your category below:
I'm a Patient…
If you have Pain in your head, back, arms or legs, you can take our online test for a fee of $19.95:
I'm a Provider…
(…or service organization who wants to provide better focused care and increase revenues.)
Neurosurgeons
Orthopedic Surgeons
Neurologists
Pain Specialists
Anesthesiologists
Chiropractors
Primary Care Providers
Qualified Healthcare Professionals
Attorneys
We're an Organization…
(…or business that wants to take care of our employees and save on unnecessary medical and health costs.)
Health Maintenance Organizations
Self-Insured Companies
Unions
Hospitals
Insurance Companies
Government
Military
C
Pinpoint Accuracy. Rapid Results. Optimized Outcomes.
---
These tests act like lasers, pointing the way for patients to get a better more optimal diagnoses, treatments, and outcomes.
With so many on market making claims and offerings, why this test? Simple:
The Rule of Large Numbers – A research team at Johns Hopkins Hospital and School of Medicine carefully poured over 10,000 patient records from over a 17 year period to expertly design these tests using Bayesian logic, harnessing the power of Artificial Intelligence.
The Technology of Artificial Intelligence (AI) – AI-precision algorithms powered by next-gen technology generate a 96% match between diagnoses of former Johns Hopkins Hospital doctors and the diagnoses generated by the tests.
The Accuracy – Proven 96% correlation with diagnoses of Johns Hopkins Hospital doctors, documented with published papers in medical journals
THE FINDINGS
96% accurate, the diagnostic tool matched diagnoses of former John Hopkins doctors
40% – 80% of chronic pain patients are misdiagnosed
89% reduced narcotic use. Narcotics do not help chronic pain. Nerve damage, inflammation, vascular compression and other chronic injuries, do not feel better with narcotics. The test provides definition of the type of tissue which is damaged, so the doctor can select the correct non-narcotic medication specific to the tissue damage.
45% reduced medical office visits when used in conjunction with proper medical tests and treatments.
98% of the time X-rays will miss damage compared to flexion-extension X-rays, and open-mouth odontoid views
78% of the time MRI's will miss damaged discs compared to provocative discograms
56% of the time CT will miss pathology compared to a 3D-CT
7 days is the average time that sprains and strains last (if, you still hurt, then there is a high probability that there is something else is wrong.
10 to 11 minutes is the average time a doctor spends with a patient. Our tests help augment that visit, by asking questions the doctor doesn't have time to ask.
This is just a summary of the findings. Go to your category for more specific use and case studies.
Correct Overlooked and Over-used Diagnosis
The tests provide diagnoses with a 96% correlation with diagnoses of Johns Hopkins Hospital doctors for commonly overlooked (missed) and commonly over-used diagnosis (patient has something else)
| | | |
| --- | --- | --- |
| Cervical sprain | Cervical strain | Lumber sprain |
| Lumbar strain | Whiplash | Fibromyalgia |
| Reflex Sympathetic Dystrophy (RSD) | Complex Regional Pain Syndrome (CRPS) | Post-Concussion Syndrome or Closed Head Injury |
| Facet syndrome | Nerve root entrapment | Migraine Headache |
| Spinal Stenosis | Neural Foraminal Stenosis | Dizziness or Vertigo |
| Nerve entrapment syndrome | Peripheral neuropathy | Unstable spine |
| Low back pain | Lumbago | Failed Back Syndrome |
| Malingering | Drug seeking behavior | Hysterical conversion |
| Electrical injuries of all types | Thoracic Outlet Syndrome | Survivors of lightning strikes |
| Retrolisthesis | Anteriolysthesis | Radiculopathy |
| Internal disc disruption | Herniated disc | Bulging or degenerated disc |
Testimonials
"…After a seemingly insignificant auto accident. I not only endured horrible pain but the emotional trauma of being told by multiple doctors including one of best neurosurgeons in Houston that THERE WAS NOTHING WRONG WITH ME. If you or anyone you know is in pain and can only find relief with drugs I implore you to use the tools on this website to determine the root cause of your pain and establish a medical plan that will allow you to LIVE again."
– Carlos Cain – Oil Field Executive – Houston, Texas
"I have had undiagnosed pain for a number of years. So I took the Pain Assessment Test. I was amazed by the results. My doctor confirmed the information on The Pain Assessment Test, and changed he treatment plan. Anyone with chronic pain should take the Pain Assessment Test."
– Eddie Tantoco – former VP of Marriott and Starwood – Phoenix, Arizona
COMMON ERRORS
A patient has normal X-ray, CT, and MRI but still complains of pain
Doctors rely on anatomical tests such as MRI, X-Rays, and CT scans to make a diagnosis, but these are anatomical tests. You cannot see pain. Pain is a Physiological condition. This means measuring a response to a stimulus.
Anatomy is taking a 'picture' but there is "no picture of pain". Doctors would need to use Physiological tests such as:
| | |
| --- | --- |
| Provocative discogram | Bone scan |
| Facet blocks | PET scan |
| Root blocks | Indium111 scans |
| Peripheral Nerve blocks | Neurometer studies for sensory nerves |
Once you have the correct diagnosis you can get the correct treatment.
Our collection of proven tests will help you and your doctor. After taking the tests, the answers are put through our powerful AI engine and within 5 minutes you will receive the output. It will provide you and your physician with:
A complete and full narrative description of symptoms
Summary of possible diagnosis and differential diagnoses
For the commercial level tests only: a list of proper tests to use, using the John Hopkins Hospital model, based on the correct diagnosis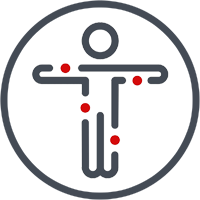 Interested in learning more about us?